Coin Operated Water Vending Machine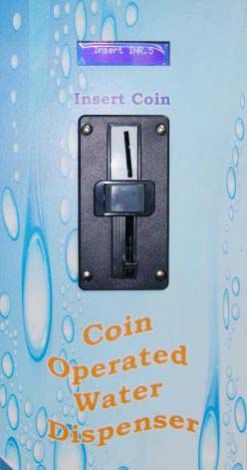 Business Type
Manufacturer, Exporter, Supplier
Type
Coin Operated
Certification
CE Certified
Weight
100-200kg
Click to view more
Preferred Buyer From
| | |
| --- | --- |
| Location | Anywhere in India |
Product Details
Automatic Grade
Automatic
Making use of a precise Electronic Flow Sensor with automatic adjustable output of water irrespective of the water level in overhead tank with maximum accuracy, Coin Operated Water Vending Machine controls the dispensed water with this latest technology innovation. High quality and ease of installation make our range popular all over the country. It is applied for commercial purposes in water vending machines and RO plants.
Features :

Coin Operated Water Dispenser Incorporates the latest in the Electronic Technology for automatic Control of Water Pump to dispense water against acceptance of coins The latest technology innovation is achieved by controlling the water dispensed with a precise Electronic Flow Sensor which can automatically adjust the output of water irrespective of the water level in overhead tank with maximum accuracy. Finds application in Water vending machines and RO plants on commercial basis.
Multi Coin Electronic Coin Validator supports acceptance of Indian Rupee Coins of all the denominations of INR 1 (old & New Series) INR 2 (old Series only), INR 5 (old and New Series) coins and INR 10. INR 2 New Series Coin is not supported by this Electronic Coin Validator as the diameter and thickness are exactly same as the old Series INR 1 coins. When inserted, this new Series of INR 2 will be accepted as old Series INR 1 coin only. Display a label on the front panel cautioning the users not to insert the new series of INR 2 coins in to this Coin Validator.
The above is not a technical issue of this multi coin Electronic Coin Validator but that of the Government of India, RBI policy to have issued old and new series coins of the same size in circulation which defeats the objective of coin recognition by automatic coin validators.
A coin box with a capacity to hold about 300 coins is available inside to collect coins. This Coin operated Water Dispenser is very user friendly and is easily programmable at on site for water volume and price settings using the settings menu. The water volume is settable from 100ml to 100 litres. Water flow control system is required to be installed at the water outlet pipe with half inch couplers at both the ends. Price is also settable on site from Re.1 to Rs.50 in steps of Rs.1 Functions available in the setting menu are 1. Set Price 2. Set Volume 3. Set Sensor 4. Test Machine and 5. Exit.
Using the settings keypad, the operator can set these functions with great ease. The Test machine function will enable the operator to check if the set volume of water is dispensed precisely and calibrated initially. Solid state relay with 15Amps rating is also provided to connect to the water pump for pumping the water from low level underground water tanks as well.
Optional add on Float Switch is available to detect Tank Empty Condition and stop accepting coins in the Electronic Coin Validator. This is add on safety feature stops dry running when water is empty in the tank. This can be operated with or without float switch by enabling or disabling the option of set sensor in settings mode.
Powder Coated Metal Cabinet with Vinyl Sticker is standard.
Tamper Proof tubular keys and lock without key holes adds to the security of this coin
box.
Dimensions : 310mm (H) X 160mm (W) X 190mm (D). Weight- 3 Kgs approx.
Read More...
Looking for "
Coin Operated Water Vending Machine

" ?